After a week of longlist announcements in the categories of poetry, nonfiction, and young people's literature, the National Book Foundation wrapped up its announcements late last week with the much-anticipated longlist for the foundation's fiction prize.

The finalists are Tom Drury, Pacific (Grove Press), Elizabeth Graver, The End of the Point (Harper), Rachel Kushner, The Flamethrowers (Scribner), Jhumpa Lahiri, The Lowland (Knopf), Anthony Marra, A Constellation of Vital Phenomena (Hogarth), James McBride, The Good Lord Bird (Riverhead Books), Alice McDermott, Someone (Farrar, Straus and Giroux), Thomas Pynchon, Bleeding Edge (The Penguin Press), George Saunders, Tenth of December (Random House), and Joan Silber, Fools (Norton).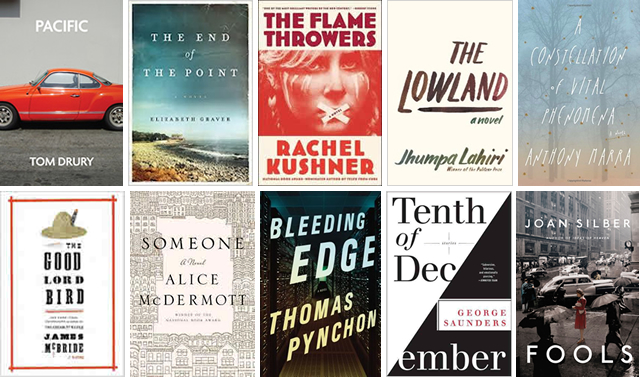 As the foundation notes, the list includes "four [previous] National Book Award winners and finalists, a Pulitzer Prize winner and finalist, recipients of a MacArthur Foundation fellowship and a Guggenheim fellowship, and a debut novelist." Among a list of favorites like Pynchon and Saunders, Anthony Marra's debut, published this past May, has received much praise, and Lahiri has been shortlisted for the Man Booker Prize.
Charles Baxter, Gish Jen, Charles McGrath, Rick Simonson, René Steinke judged.

Frank Bidart's Metaphysical Dog (Farrar, Straus and Giroux), Lucie Brock-Broido's Stay, Illusion (Knopf), and Brenda Hillman's Seasonal Works with Letters on Fire (Wesleyan University Press) topped a poetry longlist marked by debut poets. The lists in each category, including nonfiction and young people's literature, were announced on the Daily Beast.

The foundation also recently named its annual 5 Under 35, and announced that E. L. Doctorow will receive the 2013 Medal for Distinguished Contribution to American Letters, and Maya Angelou will receive the 2013 Literarian Award for Outstanding Service to the American Literary Community.

The National Book Award shortlists in each category will be announced October 16, and the winners will be named at the foundation's annual awards ceremony in New York City on November 20.