Fiction writer Claire Vaye Watkins has been named the winner of the 2013 Dylan Thomas Prize. She receives the £30,000 (approximately $48,000) award for Battleborn, her debut short story collection.
The international prize is awarded annually for a book of poetry, fiction, or nonfiction or a play in English by a writer under the age of thirty.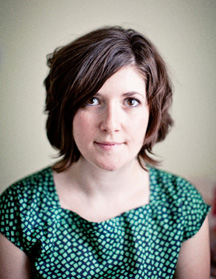 Watkins, twenty-nine, is the second American author in a row to receive the prize, following novelist Maggie Shipstead's win in 2012. Watkins received the award during a ceremony in Swansea, Wales, late last week. In addition to the prize money, Watkins was presented with a bronze cast of a young Dylan Thomas. The shortlist included two poets and five prose writers from around the world.
Battleborn, published by Riverhead Books in the United States and by Granta Books in the UK, addresses the myth of the American West. Watkins, who was born in California and raised in Nevada near the Death Valley, has won a number of awards for the book, including the annual Story Prize.
Chair of judges Peter Florence said, "Claire Vaye Watkins has some of Dylan Thomas's extraordinary skill in the short story form of giving you a perfect vision of a complete world and that's extraordinarily rare."
The prize is yet another nod to the form of the short story, following Alice Munro's win of the Nobel Prize last month.
Founded in 2006, the Dylan Thomas Prize celebrates the legacy of Welsh poet and writer Dylan Thomas, who is known for writing some of his best work in his twenties.