In 2015, BuzzFeed launched its Emerging Writers Fellowship program with a mission to "diversify the broader media landscape by investing in the next generation of necessary voices." The annual fellowships, run by BuzzFeed's executive editor of culture, Saeed Jones, are given to four nonfiction writers and include a $12,000 stipend and career mentorship from BuzzFeed's editorial staff. The fellows spend four months in BuzzFeed's offices in New York City or Los Angeles and focus on writing personal essays, criticism, and cultural news.
After the success of the first class of fellows—more than six hundred writers applied—Jones is looking ahead to the next round of fellows, who will begin in January 2017. With applications opening today—the deadline is October 1—Jones speaks with Poets & Writers Magazine about the program's first year, his goals for its second year, and tips for applicants.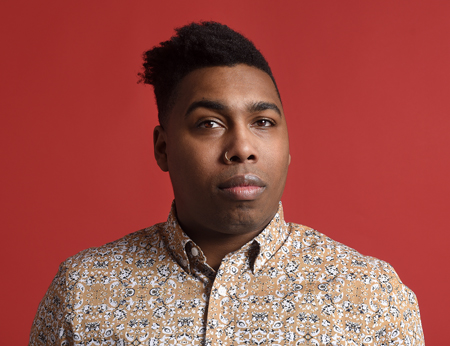 Do you feel like your initial goals for the program were accomplished in its inaugural year?
I'm proud of everything we accomplished with the fellowship's first class and what we learned from one another throughout the process. The fellows had a joyfully rigorous four months of work while also getting to sit down with writers like Rembert Browne and Rachel Kaadzi Ghansah, as well as agents and editors. The fellows are well on their way to what I hope are the next steps in brilliant, sustainable careers. That said, it's just not in my nature to be satisfied for long. I want to introduce the next class of fellows to even more industry mentors and have more roundtable discussions about what the writer's life looks like. And, more generally, I'm so eager to apply everything I learned from the first class. We have so much work to do. The urgency is almost overwhelming. Our lives, as literary citizens, depend on artists being empowered to illuminate culture.
How would you describe your experience working with the inaugural fellows?
It was a thrill to work with writers I'm confident I will be reading for the rest of my life. Each morning I walked into the newsroom and saw Esther Wang, Chaya Babu, Niela Orr, and Tomi Obaro sitting at their desks was another morning that I was reminded that transformative change is still possible. Investing in diversity and emerging voices doesn't just have to be a conversation on panels and roundtables; it can be a reality. Publishing their work was surprisingly emotional because I knew that each essay and reported story was, in effect, an experience in watching a writer's career evolve before my eyes. Also, it meant a great deal to see how eager my colleagues at BuzzFeed News were to meet the fellows themselves, take them out for coffee, read their work, and give them advice. I'm excited we get to do this again in January.
What will be different about the program in its second year?
Being based in the newsroom, getting face time with other writers and editors, comes with so many benefits—last year our fellows sat just a few feet away from Pulitzer Prize–winning editor and journalist Mark Schoofs, for example. BuzzFeed has a great office culture and it's important for our fellows to be able to take advantage of its atmosphere. That said, not everyone lives in New York City. Weird, right? Stranger still is the lingering idea that the only way a writer can make it is by packing up all of her belongings and moving to Brooklyn. Fortunately, our brilliant deputy culture editor, Karolina Waclawiak, is based in Los Angeles, so this will be the first year that fellows will have the option of being based in either our New York City headquarters or in our Los Angeles office. Whichever coast they land on, all four fellows will work very closely with Karolina and me. Everyone wins!
Do you have any advice for applicants?
In short, the application is intended to give candidates an opportunity to introduce themselves as writers and advocate for the work they've already done. Strong applicants need to make a case for why they need mentorship, time, financial support, and a sustained editorial relationship in order to take an ambitious step forward in their career. Listen, I get it. There isn't a writer among us who wouldn't benefit from having more time and money on their hands. That said, I'm drawn to candidates who are able to thoughtfully explain why this fellowship is an investment in a future that could create meaningful change. Another bit of advice: The first test of any application is whether or not the candidate actually followed the directions. This is a minimum expectation, but it also illuminates how a writer will respond and act upon editorial feedback. All editors are different, of course, but I doubt many of us enjoy repeating ourselves.
Approximately how many original pieces will each fellow write during the four-month period?
We don't have a quota. The emphasis is on giving the fellows as many opportunities as possible, and the editorial support necessary, to put their best work in front of BuzzFeed's audience. We also encourage the fellows to pursue various modes of writing, especially styles that may be new for them and will push them out of their comfort zone. A writer with a strong reporting background should, of course, seize upon cultural reporting stories but expect to brainstorm and write essays driven by personal narrative or cultural criticism as well. I think versatility is an important aspect of a sustainable career. And I'd encourage applicants to read work from the first fellowship class in order to get a sense of that range.
In addition to the establishing the fellowship program, you launched READER, a literary vertical on BuzzFeed, in March. How will the new fellows' work intersect with READER?
READER is BuzzFeed's home for original poetry, short fiction, essays—both personal and reported—as well as comics. It's also where we feature the work from the fellows, so we get to see excellent work from emerging writers published alongside the work by writers like Mark Doty, Eileen Myles, Solmaz Sharif, Helen Oyeyemi, among others. Just as BuzzFeed is known for a range of content, BuzzFeed READER is designed to feature a great range of literary work. And the fellows—excellent as they are—absolutely have a home amidst that work.
Can you speak a bit to how both READER and the fellowship program help accomplish your goals of broadening cultural coverage and diversifying publishing?
My main goal is to use BuzzFeed's tremendous platform to highlight excellent writing that matters. Valuing diversity—in terms of identity, style, and range of coverage—is just one part of being an editor in pursuit of that excellence; it's doing my job. Waiting until there's a body bleeding in the street and then hurriedly reaching out to black poets for their work is not excellence. It's panic. So, our strategy is to focus on cultivating a dynamic readership, masthead, and pipeline of writers. All three components are essential. I want the work I'm doing as an editor to outlive me, so to speak, so that means the decisions my team acts upon are driven by our desire to make substantive changes with sustainable impact.
Photo: Saeed Jones Credit: BuzzFeed / Jon Premos