James Joyce's sprawling masterpiece Ulysses, first published in Paris in 1922 and voted the best book of the century by the New York Times in 2002, recounts the adventures of Leopold Bloom on a single day in Dublin: June 16, 1904. The day is now known as Bloomsday—a sort of literary holiday that has become a tradition for Joyce enthusiasts everywhere. Next month millions of writers, scholars, and readers will take part in the centennial celebration of Bloomsday, attending readings, lectures, performances, exhibitions, film screenings, writing workshops, and other events planned in cities around the world.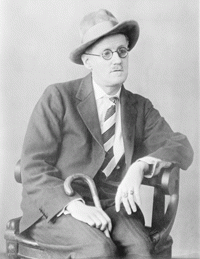 Joyce called his birthplace, Dublin, the "center of paralysis" and spent the last 40 years of his life in self-imposed exile. He lived in Trieste, Rome, Zurich, and Paris, returning to Ireland only once, briefly, in 1912. Nonetheless, most of his writings—including Ulysses—are set in the Emerald Isle. So it's appropriate that the capital itself is the venue for numerous Bloomsday events.
On February 2, Joyce's 122nd birthday, Ireland's minister for arts, sports, and tourism, John O'Donoghue, announced plans for the ReJoyce Dublin 2004 Bloomsday Centenary Festival, a five-month program of events honoring the author. O'Donoghue kicked off the festival by opening a museum at No. 15 Ushers Island, the "dark, gaunt, house" on the south quays of the Liffey River, immortalized in Joyce's best-known short story, "The Dead," and one of Dublin's few remaining Joyce landmarks.
"ReJoyce Dublin 2004," says national coordinator Laura Weldon, a former rare-book dealer in New York City, "will be the largest single cultural event in Ireland this year." The festival began in April and will continue through August with more than 50 planned events, including street theater, Joyce look-alike contests, guided tours of landmarks, concerts, and exhibitions of his manuscripts and of art influenced by Joyce. The highlight, Weldon says, is the four-day International James Joyce Symposium at the National College of Ireland, starting June 16.
The precise reason why Joyce chose June 16, 1904, as the date on which his labyrinthine novel takes place is a topic of debate. Some scholars say that Joyce and Nora Barnacle, a girl from Galway with whom he spent the rest of his life, had their first sexual encounter on that date. Others hold the slightly more conservative belief that they went for a walk around Dublin on June 16.
According to Robert Nicholson, the curator of Dublin's James Joyce Museum, the author underscored the importance of the literary date 20 years later. "Joyce was in a Paris hospital for an eye operation," Nicholson says. "Upon receiving from Sylvia Beach a beautiful bouquet of blue and white hydrangeas, the colors of the Greek flag that Joyce had purposely chosen for the cover of Ulysses' first edition, he scribbled this ironic notebook entry: 'Today 16 June 1924 twenty years after. Will anyone remember this date?'"
The first official celebration took place on June 27, 1929, to commemorate the 25th anniversary of Bloomsday and the publication of Adrienne Monnier's French translation of Ulysses. Monnier hosted the "Déjeuner Ulysse" at the aptly named Léopold Hotel in Les-Vaux-de-Cernay, a village outside Versailles. Her guests included the four Joyces—James and Nora, and their children Giorgio James and Lucia—Sylvia Beach, who published the first English-language edition of the book, and several writers, artists, and poets.
"Beach and the Joyces probably continued to celebrate Bloomsday until they had a falling-out in 1931 over Beach's contract as publisher," American filmmaker Fritzi Horstman says. "It wasn't until 1954, its 50th anniversary, that John Ryan, restaurant owner and publisher of the literary periodical Envoy, and his literary friends, novelist Brian O'Nolan and poets Patrick Kavanagh and Anthony Cronin, resurrected Bloomsday in Ireland. There are photos at the National Library in Dublin…of their pilgrimage in two horse-cabs to various locations in Ulysses and several pubs."
U.S. cities planning Bloomsday events next month include San Francisco, Philadelphia, and New York City, where the community-based arts organization Symphony Space will present the 23rd annual Bloomsday on Broadway, a 12-hour reading of Ulysses by 100 actors, broadcast on radio station WBAI, on June 16.
For more information about ReJoyce Dublin 2004, visit www.rejoycedublin2004.com.
Lucy Gordan writes a regular column, Book Ends, for Bookdealer.