Canadian short story writer Alice Munro has won the 2013 Nobel Prize in Literature. Munro, eighty-two, is the first Canadian writer and only the thirteenth woman to win the award.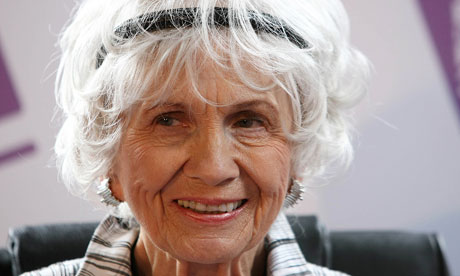 Peter Englund, the permanent secretary of the Swedish Academy, made the announcement today in Stockholm, calling Munro a "master of the contemporary short story." Munro, who lives in Clinton, Ontario, and whose work often deals with small-town life and the complicated relationships between women and men, announced earlier this year that she may be retiring. Her fourteenth story collection, Dear Life, was published in 2012 by Knopf.
One of the most prestigious prizes in the world, the Nobel Prize is given to a writer for a body of work, rather than a single book. The winner receives eight million Swedish kronor, or approximately $1.2 million.
Recent winners of the prize include Chinese writer Mo Yan, in 2012; Swedish poet Tomas Tranströmer, in 2011; Peruvian writer Mario Vargas Llosa, in 2010; and the Romanian-born German novelist and essayist Herta Müller, in 2009.