A few months ago, I was at lunch with a literary agent who shall remain nameless, and the conversation turned to the subject of our favorite movers and shakers in the industry. When Molly Friedrich's name came up, my lunch companion—no small dealmaker herself—lowered her voice and said something that surprised me. "If I were a writer, I don't see why you would sign with me or any other agent when Molly is out there. What else could you possibly want in an agent?"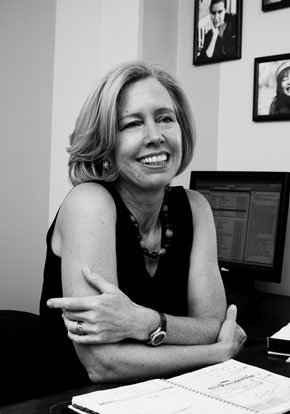 It's a sentiment that's hard to dispute. The daughter of two children's book authors, Friedrich was born in London, raised in suburban Long Island, and graduated from Barnard in 1974. She began her career in publishing a few days later as an intern at Doubleday. Over the next two years she was promoted twice, first to assistant editor and then to director of publicity at the company's paperback imprint, Anchor Press. After a year in publicity she took another new job—and a risky step backward—as an assistant to the agent Phyllis Seidel. Soon she moved again, joining the Aaron Priest Literary Agency, where she remained for the next twenty-eight years. In 2006, she set out on her own and formed the Friedrich Agency.
I don't think I can adequately convey the whirlwind of charm, passion, and sheer personal magnetism that Friedrich has spent the last three decades unleashing on the publishing world in service of her clients. Like many of her authors—Melissa Bank, Sue Grafton, Frank McCourt, Terry McMillan, Esmeralda Santiago, Jane Smiley, and Elizabeth Strout among them—she is a force of nature. But behind the deep voice and the big laugh, there is also a Long Island girl who was forced to grow up fast under challenging circumstances; a young wife who left the corporate world because she didn't want to raise her kids by telephone; a brass-knuckle agent who admits she will go to the wall for any novel—flawed or not—that makes her cry three times; and a mother of four who wrote a children's book, You're Not My Real Mother! (Little, Brown, 2004), after her adopted daughter told her precisely that one day.
When I arrive at Friedrich's office in New York City for our conversation, I am ushered in by another of her daughters, Lucy, who just graduated from college and is working as her mother's assistant for the summer. Friedrich's office is bright, warm, and unpretentious. The walls are painted with wide yellow-and-white stripes that run vertically from floor to ceiling. But its most remarkable feature has to be a memento that hangs on a wall in the corner: a framed newspaper clipping from Christmas Day 2005, when two of her clients' books, Sue Grafton's S Is for Silence (G. P. Putnam's Sons) and Frank McCourt's Teacher Man (Scribner), sat side by side atop the New York Times best-seller lists for fiction and nonfiction. As my lunch companion might have observed: How the heck are you supposed to compete with that?
I always like to start with a little background. Where are you from?
I'm the daughter of two writers. I grew up in a family in which language was very important. The one who is known, my father, is the one who got published and didn't raise the children. My mother, Priscilla, is the one who raised us. The two of them collaborated on thirteen children's books. The best book they wrote is called The Easter Bunny That Overslept, and it's been in print since 1957. It has been illustrated not once but three times and was even made into a miserable television show for a while.
The first exotic thing about me is that I was born in London. My parents met in France and were married in Paris—they were both writing, my mother was painting—and they lived a kind of faux-glamorous expatriate life. They had three children in quick succession. The first was in Frankfurt, I was in London, and my brother was in Paris. Then they moved from Paris to Long Island, and they were penniless. They had no support from either set of parents. Those were the days when even if you were educated and had children, you were expected to suck it up and fend for yourself. The first place they lived was with William Gaddis's mother. She had a home in Massapequa and her house had an unrenovated barn. And that's where we lived—in the unrenovated barn. My one claim to literary fame is that apparently there is a scene in The Recognitions in which the main character is describing a naked two-year old on a summer lawn who's putting pennies into a Woolworth's plastic beaded purse. Apparently that is yours truly. When I learned about it I thought, "God, full circle! Even then I was counting money!" But I haven't gone back to see if it's true. It's a piece of family lore. I'm not going to egomaniacally go back through that very long book searching for a possible portrait of my two-year-old self.
I guess the point is that I grew up very comfortable around books, comfortable around writers who would come out to dinner parties and were always sort of around. My father started out at Newsweek and then was at the Saturday Evening Post for years. He started writing books then. He wrote a couple of honestly not-very-good novels and then he wrote many books as a cultural historian. But he never gave up his journalistic work. He needed to earn a steady, consistent living because by then there were five children, the third and fourth of whom were retarded. Today I am their guardian. The fifth child was born eight years after the fourth one, and he's the one who died in a plane crash. So it's a large and noisy family that's complicated in the way of all interesting families.
Where did you go to college?
I went to college at Barnard and graduated with a BA in Art History. My father would not allow me to major in English. He felt very strongly that if he was going to pay tuition, which he did, and that if I was going to be reading books all my life, then there was absolutely no reason for him to underwrite four years of studying Melville. So I tried to figure out the thing I could study that would be the one thing he didn't know about, and that was art history. I studied the early Italian renaissance. Then, of course, there was the question of "What do you do?" What do you do with a BA in Art History from Barnard, when you basically can't do anything but analyze the diagonal composition of a great painting? Not useful! My parents were very consistently clear that when we graduated there would be no support. We were not to have any kind of meltdown, we were not to reveal any learning disorders—if we had them we were to keep them to ourselves. We were to get on with it, and sort ourselves out, and always live within our own incomes.
How did you get started in publishing?
When I was still in Barnard I was renting a room from Connie and Tom Congdon, who was an editor in the apex of his fabulous commercial book editing life because he was the editor of Jaws. Tom said, "You should go into publishing." I called my father because he was the one who could be counted on for an honest response. He said, "Absolutely not. Publishing is what people go into when they don't know what else to do." I said, "But that applies to me!" Congdon said not to pay attention to my father. He said he'd get me an interview at Doubleday. And I do give good interview, as you will learn by the end of this evening. I was a great interview—very confident—and I had done all kinds of interesting things because I'd been working every summer from the age of thirteen on. I'd also gotten pretty poised about being around adults, kind of old beyond my years, I guess, especially with my brother and sister as they were.
But then I had to take the typing test. They knocked off ten points for every mistake, which gave me a score of negative thirty-five. They said, "We'd love to hire you, but..." and I went away. I decided to spend the second semester of my senior year typing the op-ed page of the Times every day. I went back for that typing test two more times, and I was finally hired at thirty-seven words per minute as an intern at Doubleday. I think I was hired really for tenacity alone. It was a great program that they have long since discontinued. You got to spend about two weeks working in every conceivable department: the different editorial departments of Doubleday, the copyediting department, rights and permission. You got to go out to Garden City and deal with the purchasing offices. You got to go on the road with a sales rep and watch books not get placed. Even back then, in 1974, books were skipped. It was really a devastating experience to observe secondhand.
At the end of four months you got to choose where you wanted to go, and naturally I said editorial because I have no imagination. I had the choice of working either in Doubleday trade or Anchor paperback, which back then was about eleven people. It was really big. I went to work as the assistant to Loretta Barrett, who was the editorial director. It should be noted that almost everybody who was at Anchor at the time—aside from Bill Strachan, who has no sense—has become an agent. Marie Brown, Elizabeth Knappman, Loretta Barrett herself, Liv Blumer. We are all agents.
Tell me what those early days were like for you.
Anchor's list was fairly academic back then. There were about 135 books published a year, of which 60 percent were reprints and 40 percent were trade paperback originals. The fact is, I had grown up in a family of extremes. My youngest brother, Tony, was brilliant, and so was my older sister, Liesel. I didn't test well. I didn't learn easily. And I didn't consider myself especially bright. But I was a huge overachiever. It wasn't until I went to college that I realized that if I simply worked harder than anybody else, I would do fine. I saw the same thing at Doubleday. It was great. People would give me work and I would do whatever I was told. I had all kinds of time because my husband was still a sophomore in college—I'd gotten married by then—and he had no time to talk to me anyway. In those days you also got paid overtime, which was essential because I was making six thousand dollars a year. We were really quite penniless, and overtime was what kept the wolf at the door. So I did whatever I was told. I wrote flap copy. I put books into production. I consulted the art department on jackets. I gave books their titles when no one else could think of one. I read whatever I was told to read and even what I was not asked to read.
Mostly, I taught myself how to do the job. When I started working for Loretta, I had inherited this adorable little office—it was really an outer office—with a huge window. But I had no view because the window was blocked by old filing that was stacked up and covering it. I decided that I was going to see my view by the end of six months. That was my goal. Very Prussian. So every night I would stay late and file. And I never filed anything without reading it. That's how I learned how things worked. I learned how people were presenting books, who was buying what books, what Sam Vaughan had decided to publish as opposed to what Lisa Drew was doing in trade, etcetera. I honestly had nothing better to do than to be ferociously ambitious. And there was nothing stopping me.