For more than fifteen years, English artist Jennifer Collier (jennifercollier.co.uk) has crafted whimsical sculptures of household items out of books and papers salvaged from flea markets and thrift shops. "The papers themselves serve as both the inspiration and the media for my work," Collier writes in a note on her website, "with the narrative of the books and papers suggesting the forms."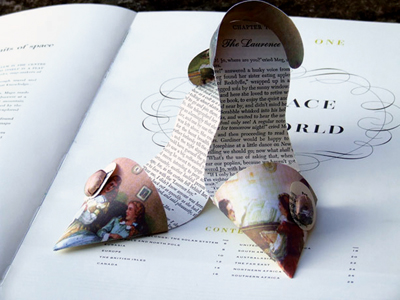 Some of Collier's pieces include a pair of stilettos made from the pages of Louisa May Alcott's classic coming-of-age novel Little Women (pictured above), an apron and pair of long-sleeved gloves fashioned from the illustrated text of Lewis Carroll's Alice in Wonderland, and a sewing machine constructed entirely of old dressmaking patterns. With her work, Collier hopes to "give new life to things that would otherwise go unloved or [get] thrown away" and embraces accidents as part of the artistic process. In a recent interview with the Make It in Design blog, she said, "I enjoy nothing more than finding a cookbook splattered with food stains or a water-damaged paperback that I can save from a landfill and transform into something beautiful." Collier looks to literature for ideas, citing Jeanette Winterson's novel Oranges Are Not the Only Fruit as the inspiration for one of her first shows in 1999 at Manchester Metropolitan University. Collier premiered a new exhibit last summer in her studio in Stafford, England, titled "A Room With a View" after E. M. Forster's 1908 novel. The exhibit consisted of a room outfitted solely with paper objects, including armchairs, lampshades, a dustpan and brush, a vacuum cleaner, and flowerpots. Collier creates works on commission and has exhibitions opening this month in Alkersum, Germany, and in Antrim, Northern Ireland. 
Art: courtesy of Jennifer Collier.