When Lisa Barber attended her first workshop as part of the Veterans Writing Project (VWP) last summer, she was struck by how many women were in attendance. "One of the hardest things about being a female veteran who has retired because of post-traumatic stress disorder is finding other women who have gone through the same thing," she says. In the workshop, a weeklong intensive in creative nonfiction led by the program's founder and director, Ron Capps, and journalist Kelly Kennedy, both veterans themselves, Barber found she was ready to write for the first time in what felt like an eternity. "I've always been a writer," she says, "but that's something I gave up when I entered the military." Barber, who served in the U.S. Air Force for twelve years, endured a brutal six-month deployment in Afghanistan that she says she still—more than a year after leaving the service—finds difficult to discuss. She plans to eventually write a memoir about her struggles as the only woman in her unit, but in the meantime, attending workshops as part of the VWP has eased her transition to civilian life and helped her begin to heal.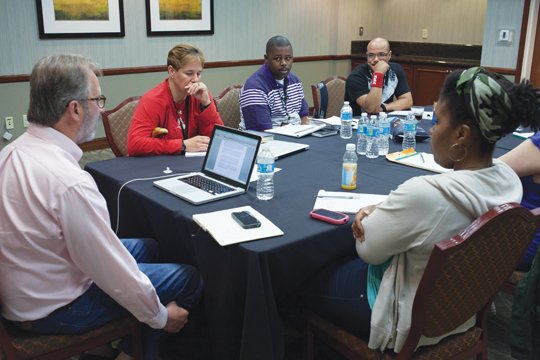 That process of transition—which can be especially difficult for young veterans looking to pursue college degrees upon their return—is what led Capps to found the VWP in 2011, while pursuing his master's degree in writing at Johns Hopkins University. He recalls reading about a young Iraq veteran in Maryland who was barred from his community college campus after publishing an essay about his struggle with violence addiction in the school newspaper. "I approached several universities in the Washington, D.C. area," Capps says. "I knew there would be a bunch of veterans returning from the wars in Iraq and Afghanistan and that the universities might not really be prepared to handle what they were going to write about."

Since then, the VWP has offered free classes in and around the city for veterans, active-duty service members, and military families. Workshops range from two-day seminars to fourteen-week comprehensive courses and cover a variety of genres, including poetry, fiction, creative nonfiction, and scriptwriting. All the instructors are veterans themselves, with master's degrees in writing or journalism. "Ron's vision really appealed to me," says Jim Mathews, an instructor and fiction editor for VWP's quarterly literary journal, O-Dark-Thirty. "I had seen firsthand how my fellow brothers- and sisters-in-arms responded positively to being around other vets when they shared their writing." Mathews says his students come away from his workshops with a sense of community, "not just as vets who write, but as writers who also happen to be veterans."

Creating a safe, empowering space for a new generation of veterans to write about their time in the military is at the heart of the VWP's mission. The project also aims to connect veterans and their families to a network of people struggling with similar experiences, and to provide a kind of alternative therapy for participants—though Capps is quick to point out that he and his instructors are writers, not medical professionals. Still, many veterans do attend VWP workshops as part of their treatment, often at the behest of their therapists. In addition to running workshops at George Washington University, the VWP holds sessions at the nearby National Veterans Center, and its instructors meet weekly with patients at the National Intrepid Center of Excellence, the Department of Defense's premier research and treatment facility for PTSD and traumatic brain injury at Walter Reed National Military Medical Center in Bethesda, Maryland.

"In their out-processing sessions, veterans routinely point to writing and other creative-arts programs as being the most helpful of their therapies," says Capps, who adds that the facility recently restructured its schedule specifically to provide patients with more time in the writing program.

Mathews sees the workshop as something much more than therapy. "Military vets and service members aren't any more in need of 'healing' than any other writer," he says. He tells his students to write about their military experiences if they want to, but not to let it get in the way of writing about other topics they may be interested in. "I just think the military experience really lends itself to exploring the human condition."

Barber, meanwhile, who kept a blog while she was deployed in Afghanistan, is now using those entries as guideposts to her memoir. "I was experiencing some very traumatic things at the time, but I didn't put a lot of emotion into the posts," she says. "I knew that people back home were reading and I didn't want them to worry about me." Today, the blog provides a record of facts and events, some of which Barber had repressed. "There is a hope that my ability to write will put my experience into perspective. I never thought writing could do this for me. No therapist has ever told me that."

In the workshop Barber attended, Capps encouraged her to choose one memory at a time, and write a short scene including the emotion that each memory elicited—a technique that he also used in his own recovery process.

Capps, who served for twenty-five years in the U.S. Army and the Army Reserve and saw combat during the war in Afghanistan, also served as an intelligence officer in the Foreign Service. After nearly a decade of reporting on atrocities in Rwanda, Kosovo, Afghanistan, Iraq, and Darfur, he found himself on the brink of suicide. "I was asked to write crisp, dry reports about messy, horrible acts of cruelty," he says. So, in the evenings, he took to his laptop and began to write what would eventually become his memoir, Seriously Not All Right: Five Wars in Ten Years, published in May by Schaffner Press. "I needed to say more about what I witnessed, what I thought it meant for the world, and how it affected me."

Part of Capps's continued passion for the VWP comes from the recognition that he is not alone in his battle against despair. In January the Department of Veterans Affairs released statistics showing a 44 percent increase in suicide rates between 2009 and 2011 for male veterans under thirty. Rates for female veterans rose by 11 percent during the same two years.

Capps estimates that the VWP has provided workshops for more than a thousand veterans in the four years since its founding. While most participants have attended classes in or around Washington, D.C., Capps has also traveled across the country to lead seminars and workshops in a number of other states, including Arizona, Iowa, and Texas, and has also begun collaborating with similar programs in the United Kingdom and Afghanistan. He plans to develop an international conference for veteran writers and to publish the work of international service members—some of it in translation—in O-Dark-Thirty. While plans have yet to be finalized, he hopes this work will eventually provide veterans throughout the world with the opportunity to excavate new understanding from their experiences of war.

"I think that any time a writer is really digging into emotions or feelings, really opening him- or herself up to a full examination, he or she is getting closer to writing truth," Capps says. "And really, isn't that what we're all seeking?"

Amanda Calderon is a poet in Brooklyn, New York. Her work has been published or is forthcoming in Poetry and the Kenyon Review.