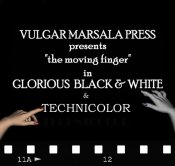 Genres Published:
Poetry, Fiction, Creative Nonfiction, Translation
Subgenres:
Literary Fiction, Prose Poetry, Visual Poetry
Book Types:
Chapbook, Novella, Short story collections, Novel, Poetry collections
Formats:
Paperback, Hardcover, E-book, Audio
Publishes Through Contests Only:
Accepts Unsolicited Submissions:
Accepts Simultaneous Submissions:
Editorial Focus
Vulgar Marsala Press was founded in 2009 and revamped in 2020. In a nutshell, we seek to facilitate the internal bleeding of poetry and fiction into arthouse cinema, visual art, classical music, and any number of other mediums. That is to say, with a seductive enough product, a kind of runner's high takes over, and all mediums become one; we are essentially synesthetes. We are also keenly interested in anything in the folk horror genre. We welcome satire (the more biting and surreal, the better), and plays/stage productions in verse.
Tips From the Editor
Our only criteria is brilliance and originality. Show us something that pops and is going to keep us riveted into and past the first few lines, without ever letting up. We are staunchly anti cancel culture, and are not interested in academic trends or predictable formulaic themes or approaches. 
By invitation only, yet open to collaborators. Query at vulgarmarsalapress@gmail.com.
Contact Information
Lisa A. Flowers, Founding Editor
Last updated: Oct 09, 2022