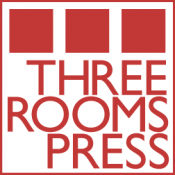 See writers who are published by this small press
Genres Published:
Fiction, Creative Nonfiction
Subgenres:
Autobiography/Memoir, Commercial Fiction, Journalism/Investigative Reporting, Literary Fiction, Pop Culture, Translation
Formats:
Paperback, Hardcover, E-book
Publishes Through Contests Only:
Accepts Unsolicited Submissions:
Accepts Simultaneous Submissions:
Editorial Focus
Three Rooms Press is a fierce New York-based independent publisher inspired by dada, punk, and passion. Founded in 1993, it serves as a leading independent publisher of cut-the-edge creative, including fiction, memoir, poetry translations, drama and art. In addition, Three Rooms Press produces and promotes a variety of literary and cultural events worldwide, including readings, plays, workshops, and concerts. Three Rooms Press books are distributed by PGW / Ingram.
Tips From the Editor
Three Rooms Press publishes an annual anthology: 1. Maintenant: A Journal of Contemporary Dada Poetry and Art. Submission period: October 1 thru December 31; Publication: June. Looking for Dada art and Dada short written pieces. Get a sample copy to learn more about what we are publishing. Sample copies available for purchase here: http://threeroomspress.com/authors/maint... This is a good way to let the editors get familiar with your work and communication style.
Contact Information
Peter Carlaftes, Co-Founder & Editor
Last updated: Jan 10, 2023