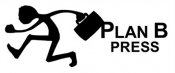 See writers who are published by this small press
Book Types:
Chapbook, Poetry collections
Publishes Through Contests Only:
Accepts Unsolicited Submissions:
Accepts Simultaneous Submissions:
Editorial Focus
Plan B Press encourages, captures, presents and preserves contemporary poetry by publishing and presenting emerging poets. A small independent publishing company that primarily produces high-quality, limited-run poetry chapbooks. We have also created two short fiction collections and four full-length books.
Tips From the Editor
Please consider the chapbook as a whole package, not just a collecton of unrelated poems.
Please consider the visual side of the book - how the book will be presented. Come with ideas.
Please send whole collections, not just 2-3 poems. We do not publish journals.
Last updated: Sep 16, 2022