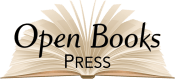 See writers who are published by this small press
Genres Published:
Fiction, Creative Nonfiction
Subgenres:
Autobiography/Memoir, Commercial Fiction, Cross-genre, Historical, LGBTQ Voices, Narrative Nonfiction, Nature/Environmental, Regional
Formats:
Paperback, Hardcover, E-book
Temporarily closed to submissions
Publishes Through Contests Only:
Accepts Unsolicited Submissions:
Accepts Simultaneous Submissions:
Editorial Focus
Open Books Press is dedicated to publishing quality books. When we're open for submissions, we accept adult nonfiction, and fiction for all ages (including some YA and children's). All authors with exceptional work will be given serious consideration.
Tips From the Editor
Please follow our submission guidelines as closely as possible to ensure your submission is complete. Verify that we're currently accepting submissions by visiting our Query page, as we do close submissions from time to time to work through our backlog.
Contact Information
Jennifer Geist, Publisher
Last updated: Jun 09, 2022