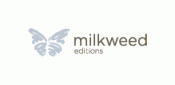 See writers who are published by this small press
Genres Published:
Poetry, Fiction, Creative Nonfiction
Accepts Unsolicited Submissions:
Accepts Simultaneous Submissions:
Editorial Focus
Milkweed Editions is one of the nation's leading independent, nonprofit literary publishers, releasing twelve to twenty new books each year in the genres of fiction, nonfiction, and poetry. In addition, we are one of two nonprofit presses that publish children's literature.
Tips From the Editor
Please do familiarize yourself with our list. Please don't expect a response right away--we are overburdened with submissions and it takes a while to consider them all.
Contact Information
1011 Washington Avenue South
Last updated: Feb 17, 2017