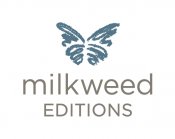 See writers who are published by this small press
Genres Published:
Poetry, Fiction, Creative Nonfiction
Book Types:
Essay collections, Novel, Memoir, Poetry collections
Formats:
Paperback, Hardcover, E-book, Audio
Publishes Through Contests Only:
Accepts Unsolicited Submissions:
Accepts Simultaneous Submissions:
Editorial Focus
Milkweed Editions is one of the nation's leading independent, nonprofit literary publishers, releasing twenty to thirty new books each year in the genres of fiction, nonfiction, and poetry. Our mission is to identify, nurture, and publish transformative literature, and build an engaged community around it.
Tips From the Editor
We are not currently open for unagented submissions (except for poetry prizes). Any changes will be announced by newsletter and on social media. Please learn more about our poetry prizes on our website.
Contact Information
1011 Washington Avenue South
Last updated: Sep 23, 2022