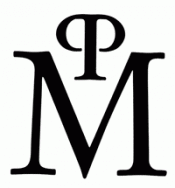 See writers who are published by this small press
Genres Published:
Fiction, Creative Nonfiction
Subgenres:
Experimental, Historical, Literary Fiction, Translation
Temporarily closed to submissions
Publishes Through Contests Only:
Accepts Unsolicited Submissions:
Accepts Simultaneous Submissions:
Editorial Focus
An independent house since 1974, McPherson & Company publishes contemporary English and American fiction, 20th C. international fiction in translation, nonfiction in the areas of art theory, ethnography, and (rarely) belles lettres. It published the 2010 fiction winner of the National Book Award, Lord of Misrule by Jaimy Gordon.
Tips From the Editor
Query first, preferably by email to bmcpher@outlook.com.
Unrequested manuscripts will not be read or returned.
Contact Information
Bruce McPherson, Publisher
Last updated: Jun 29, 2022