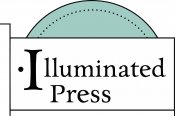 See writers who are published by this small press
Genres Published:
Poetry, Fiction, Creative Nonfiction
Subgenres:
Cross-genre, Experimental, Feminist, Graphic/Illustrated, LGBTQ Voices, Literary Fiction, Nature/Environmental, Political, Prose Poetry, Young Adult
Book Types:
Chapbook, Short story collections, Essay collections, Poetry collections
Formats:
Paperback, Hardcover, E-book
Publishes Through Contests Only:
Accepts Unsolicited Submissions:
Accepts Simultaneous Submissions:
Editorial Focus
Illuminated Press is a micro publisher that amplifies a wide range of voices through publishing. Writers of any age and experience whose work explores social, political, and/or economic topics are encouraged to submit.
We consider text, image, materials, and book structure as integral elements to the content. Our books feature letterpress printed covers on handmade paper and hand binding in editions of 200-300 copies.
Last updated: May 22, 2023