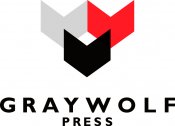 See writers who are published by this small press
Genres Published:
Poetry, Fiction, Creative Nonfiction, Translation
Subgenres:
Autobiography/Memoir, BIPOC Voices, LGBTQ Voices, Literary Fiction, Narrative Nonfiction, Translation
Formats:
Paperback, Hardcover, E-book
Publishes Through Contests Only:
Accepts Unsolicited Submissions:
Accepts Simultaneous Submissions:
Editorial Focus
Graywolf Press is a leading independent publisher committed to the discovery and energetic publication of contemporary American and international literature. We champion outstanding writers at all stages of their careers to ensure that diverse voices can be heard in a crowded marketplace.
Tips From the Editor
Graywolf Press is a literary press that publishes about thirty books annually, mostly collections of poetry, memoir, essays, novels, and short stories. Our editors are looking for high quality literary fiction, nonfiction, and poetry that combines a distinct voice with a distinct vision.
Please note that we do not accept unsolicited submissions outside of open periods and contests. Check our submissions page for more information about the reading periods for contests.
Last updated: May 30, 2023