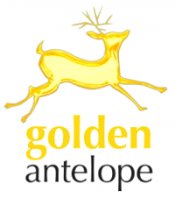 See writers who are published by this small press
Subgenres:
Cross-genre, Feminist, Historical, Literary Fiction, Pop Culture
Book Types:
Short story collections, Novel, Memoir, Poetry collections
Formats:
Paperback, Hardcover, E-book
Publishes Through Contests Only:
Accepts Unsolicited Submissions:
Accepts Simultaneous Submissions:
Editorial Focus
Golden Antelope Press is a small press operated in conjunction with, or spun off from, its sister presses, the more scholarly Blazing Sapphire and Naciketas Presses. The focus of this press is creative works of fiction and poetry. So far we have published forty-eight books. We try to do about five books per year, and have had to turn down many worthwhile projects.
Last updated: Mar 22, 2023