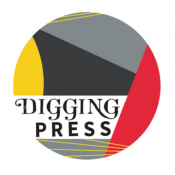 Genres Published:
Poetry, Fiction, Creative Nonfiction
Subgenres:
BIPOC Voices, Cross-genre, Experimental, Feminist, Flash Fiction, Formal Poetry, LGBTQ Voices, Literary Fiction, Prose Poetry
Book Types:
Chapbook, Novella, Short story collections, Poetry collections
Publishes Through Contests Only:
Accepts Unsolicited Submissions:
Accepts Simultaneous Submissions:
Distributors:
In-house distribution via online Digging Press Shop.
Editorial Focus
The Digging Press Chapbook Series Award, established in 2018, honors small books of literary and artistic quality that encourage experimentation and cultural inclusion and promote the importance of eclecticism in the literary arts.
The Poetry Series 2022 (forthcoming Summer 2022).
Tips From the Editor
We seek innovative works that are inventively personal and richly imagined.
Past Winners:
Mandy-Suzanne Wong 
Abigail Carl-Klassen
Dimitri Reyes 
Marie Baléo (Winter 2022)
Morgan Christie (Spring/Summer 2023)
Last updated: Jun 02, 2022