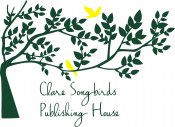 See writers who are published by this small press
Genres Published:
Poetry, Fiction, Creative Nonfiction
Book Types:
Chapbook, Essay collections, Poetry collections
Temporarily closed to submissions
Publishes Through Contests Only:
Accepts Unsolicited Submissions:
Accepts Simultaneous Submissions:
Editorial Focus
Clare Songbirds Publishing House was established to provide a print forum for the creation of limited edition, fine art from poets and writers, both established and emerging.  
Tips From the Editor
We strive to reignite and continue a tradition of quality, accessible literary arts to the national and international community of writers, and readers. We support our literary artists with high quality services and on-going support. Chapbook manuscripts and art quality poetry broadsides are carefully chosen for their ability to propel the expansion of art and ideas in literary form.
Contact Information
Laura Williams French, Director of Publishing Operations
Last updated: Jan 10, 2023