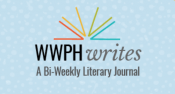 Accepts Unsolicited Submissions:
Accepts Simultaneous Submissions:
Editorial Focus
WWPH Writes is looking for poetry and fiction that "celebrates, unsettles, and questions the lives in the DC, Maryland, and Virginia areas (DMV) and in the nation."
Tips From the Editor
We seek work that is lyrical and dynamic, and we believe in cultivating a diverse environment of content, form, risk, and experimentation. New perspectives and voices with craft and fierceness are strongly encouraged to submit. Send us your best work and challenge us with your ideas and your writing.
Contact Information
Jona Colson, Caroline Bock, Editors
Last updated: Nov 08, 2022