See writers who are published in this journal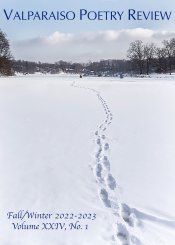 Accepts Unsolicited Submissions:
Accepts Simultaneous Submissions:
Editorial Focus
Valparaiso Poetry Review presents poems, interviews, and essays by new, emerging, or well-known poets. VPR also offers book reviews and essays on various poets.
Tips From the Editor
Due to the large number of submissions and the competitive level of excellence displayed in so many poems received each year, Valparaiso Poetry Review will be highly selective in choosing pieces for inclusion in each issue, accepting only accomplished, quality poetry. Unsolicited manuscripts are read year round. Valparaiso Poetry Review accepts submissions of unpublished poems, book reviews, author interviews, and essays about poetry or poetics. Submit an essay, book review, interview, or no more than five poems at a time, and include biographical information.
Last updated: Aug 15, 2023