See writers who are published in this journal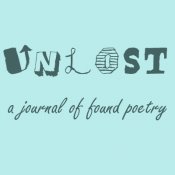 Accepts Electronic Submissions:
Accepts Simultaneous Submissions:
Accepts Unsolicited Submissions:
Editorial Focus
Unlost is an extension of Unbroken Journal, founded because we love found poetry in all its forms and we feel it isn't being given nearly enough attention in the literary world.
Tips From the Editor
Please submit only found poetry. Please remember to cite your source text. Please do not submit anything that is not a found poem.
Last updated: Sep 24, 2018