See writers who are published in this journal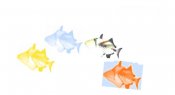 Accepts Unsolicited Submissions:
Accepts Simultaneous Submissions:
Editorial Focus
Triggerfish is a journal "dedicated to the 'why' of poetry, seeking to understand and illuminate this process, to say that it is possible to make qualitative judgments and distinctions about the substance of poetry. We hope to provide insight into the discerning reader's viewpoint. The intention isn't to demonstrate the worth of these poems, but to talk about why we read them and why we want you to read them."
Tips From the Editor
We are looking for your best work. If you don't think it's your best, don't send it. Please review our submission guidelines.
Last updated: Feb 09, 2023