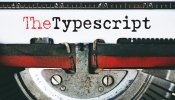 Genres Published:
Poetry, Fiction, Creative Nonfiction
Accepts Unsolicited Submissions:
Accepts Simultaneous Submissions:
Editorial Focus
The Typescript is an online journal about art, politics, and culture. It is accepting submissions in a range of categories. The editors are interested in writing about the intersections of culture and politics, both in terms of cultural politics and the politics of culture, and points of connection between politics and culture: culture, society, the arts, literature, education, activism, life, love, philosophy, scholarship, faith, and spirituality.
Last updated: Sep 11, 2023