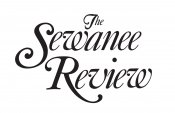 Genres Published:
Poetry, Fiction, Creative Nonfiction
Accepts Electronic Submissions:
Accepts Simultaneous Submissions:
Accepts Unsolicited Submissions:
Editorial Focus
The Sewanee Review is America's oldest continuously published quarterly. Only erudite work representing depth of knowledge and skill of expression is published here - high quality fiction, poetry, essays, and reviews.
Tips From the Editor
We are looking for mature work, ideas seriously pursued, work that reflects a lifetime (no matter how short or long) of reading. Not only should the writer be familiar with the roots of the genre in which he or she is working, but it's crucial that the writer be familiar with the Review before submitting. Reading just one issue will give you an idea of the personality and tone of the magazine.
Contact Information
Leigh Anne Couch, Managing Editor
Last updated: Feb 17, 2017