See writers who are published in this journal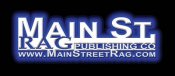 Genres Published:
Poetry, Fiction, Creative Nonfiction
Accepts Unsolicited Submissions:
Accepts Simultaneous Submissions:
Editorial Focus
We prefer poetry that is alive with the poet's own experiences, fiction that is character-driven and often quirky. Reviews, interviews should query first and they are the two items for which we pay cash.
Tips From the Editor
Authors who want to be taken seriously should reciprocate by being familiar with a magazine's guidelines—if not the magazine itself via sampling, circumstances detailed on our website.
Contact Information
M. Scott Douglass, Publisher/Managing Editor
Last updated: Sep 22, 2022