See writers who are published in this journal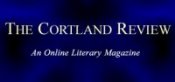 Genres Published:
Poetry, Fiction, Creative Nonfiction
Accepts Unsolicited Submissions:
Accepts Simultaneous Submissions:
Editorial Focus
The Cortland Review is an online magazine publishing both established and emerging writers from the print and online worlds. Using audio paired with text to complete the link between reader and writer, TCR provides regular and feature issues with poems and short fiction selected by staff as well as illustrious guest editors.
Tips From the Editor
All work should be single-spaced. Do not use ALL CAPS, even for titles. Make sure entire submission is submitted in one online submission form.
Contact Information
Christian Gullette, Editor
Last updated: Aug 08, 2022