See writers who are published in this journal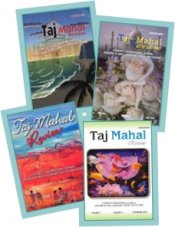 Genres Published:
Poetry, Fiction, Creative Nonfiction
Accepts Electronic Submissions:
Accepts Simultaneous Submissions:
Accepts Unsolicited Submissions:
Editorial Focus
Our main aim is to publish the poets and writers in English all over the world. The critical articles, essays, and poems should exhibit the post-modern trends, without obscurity, artificiality and violation of laws of criticism. Taj Mahal Review does not accept compositions founded on violent self-pity, or feelings of egocentricity. We will accept published, unpublished and also simultaneous creations, but Taj Mahal Review does not publish anonymous writings.
Contact Information
Dr. Santosh Kumar (India), Editor
ALLAHABAD - 211011 (U.P.)
Last updated: May 25, 2018