See writers who are published in this journal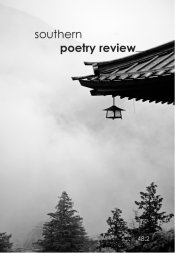 Accepts Unsolicited Submissions:
Accepts Simultaneous Submissions:
Editorial Focus
SPR reads submissions year-round and annually sponsors The Guy Owen Prize Contest. The result is a semi-annual literary publication showcasing poems by leading poets as well as those writers the editors think will become leading poets. SPR looks forward to hearing from writers and reading their work.
Tips From the Editor
Be sure to include a cover letter with basic information: the number of poems submitted and their titles, plus a brief biographical note that emphasizes previous publications. Include an SASE. Make sure your name, mailing address, phone number, and if applicable, e-mail address appear on each page of the manuscript.
Contact Information
Tony Morris, Assoicate Editor
Armstrong Atlantic State University
Languages, Literature, and Philosophy
Last updated: Feb 28, 2023