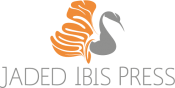 Genres Published:
Poetry, Fiction, Creative Nonfiction
Accepts Unsolicited Submissions:
Accepts Simultaneous Submissions:
Editorial Focus
Scarlet is a bimonthly blog published by Jaded Ibis Press that is dedicated to publishing the work of artists whose pieces give voice to the complexities of multiple identities. In keeping with JIP's mission to uplift marginalized voices, Scarlet aims to showcase bold and unique framings of the view from the margins, giving strong preference to writing that questions norms and provokes discourse.
Tips From the Editor
Scarlet invites original poetry, fiction, essays, and creative nonfiction submissions in English from emerging and established writers. We are looking for work that redraws lines and reclaims spaces, as well as writing that is pithy, deliberate, and/or experimental.
Contact Information
Lyndsey Ellis, Editor at Large
Last updated: Oct 02, 2023