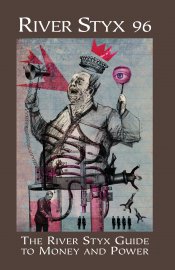 Genres Published:
Poetry, Fiction, Creative Nonfiction
Accepts Electronic Submissions:
Accepts Simultaneous Submissions:
Accepts Unsolicited Submissions:
Issue Price:
$9 (single-issue); $14 (double-issue)
Editorial Focus
As a multicultural journal of poetry, prose and art, River Styx publishes works of both new and established artists significant for their originality, energy and deft of craft. The high quality of its form and content have made it a leader among literary magazines for more than 40 years. We publish poetry, short fiction, essays, drawings, and photographs. If your work is the best that it can be and you deem it fits with the established style and content of our magazine, please send it to River Styx.
Contact Information
Theresa Brickman, Managing Editor
Last updated: Feb 17, 2017