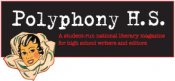 Genres Published:
Poetry, Fiction, Creative Nonfiction
Accepts Unsolicited Submissions:
Accepts Simultaneous Submissions:
Editorial Focus
The mission of Polyphony Lit is to create a high-quality literary magazine written, edited, and published by high school students.
Tips From the Editor
We strive to build respectful, mutually beneficial, writer-editor relationships that form a community devoted to improving students' literary skills in the areas of poetry, fiction, and creative non-fiction. Every submission receives extensive feedback from our editorial panel. Three annual cash awards for excellence.
Contact Information
Katie Scullion, Executive Director
Last updated: Feb 09, 2023