See writers who are published in this journal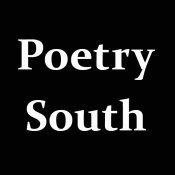 Accepts Electronic Submissions:
Accepts Simultaneous Submissions:
Accepts Unsolicited Submissions:
Editorial Focus
Poetry South is a national journal that considers all kinds of poetry. Though we pay particular attention to writers from the South (born, raised, or living here), all poetry within our covers has a claim to the South because it is published here. The magazine has a tradition of including poets from other regions and other countries. We are looking for a great mix of styles and voices that will appeal to our audience and breathe new life into the poetry of the South.
Tips From the Editor
Submit 1-4 poems in a Word, RTF, or PDF formatted file. Paste a brief bio (500 characters or less) into the bio field. 
Please include your name at the beginning of the file, and do not use spaces or punctuation.
To avoid confusion and the potential for an empty file, please avoid the following when naming your submission file:
spaces
characters like: !@#$%^&*()_+=}]{{["':;/?.>,<~`
filenames like: PoetrySouth, FourPoems, or PoetrySubmission (unless you begin with your name)
Contact Information
Kendall Dunkelberg, Editor
1100 College St, MUW-1634
Dept. of Languages, Literature, and Philosopy
Last updated: Mar 10, 2020