See writers who are published in this journal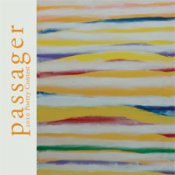 Genres Published:
Poetry, Fiction, Creative Nonfiction
Accepts Unsolicited Submissions:
Accepts Simultaneous Submissions:
Editorial Focus
Passager Magazine publishes two issues per year featuring poetry, fiction and memoir by writers over 50. Its mission is to bring attention to older writers with a publication that is beautifully designed and professionally edited. Our motto: The older the better. Annual poetry contest in April for writers over fifty, requires reading fee. We publish books by select Passager authors.
Tips From the Editor
Read the journal first, or look online at our samples. Tell us about yourself in your cover letter.
Contact Information
Kendra Kopelke, Co-Editor
Last updated: Apr 26, 2022