See writers who are published in this journal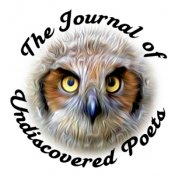 Accepts Unsolicited Submissions:
Accepts Simultaneous Submissions:
Editorial Focus
The Journal of Undiscovered Poets strives to publish poets who do not have access to traditional opportunities, usually because they are not in situations where there are many readings and public events, or in academic settings.  
Tips From the Editor
In your cover letter, tell us a bit about how you discovered poetry and what your experience has been like in attempting to share your work. Tell us why you suppose some poets become publicly known and others remain undiscovered. Are there benefits to being newly discovered? Should we accept your work, where do you hope to go from here? Will it affect the way you frame your future as a poet? Also, we would like to know what other art forms you express yourself in. Are you also a playwright, a painter? 
Contact Information
Margaret Sullivan, Editor
Last updated: Jan 24, 2023