See writers who are published in this journal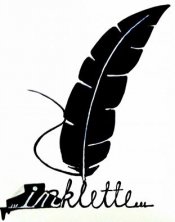 Genres Published:
Poetry, Fiction, Creative Nonfiction
Temporarily closed to submissions
Accepts Unsolicited Submissions:
Accepts Simultaneous Submissions:
Editorial Focus
Inklette is a not-for-profit, online literary magazine helmed by high-school and college students from all over. Inklette believes in the ability of art and literature to strike our consciousness in inexplicable ways. We believe that a good work of art can make us feel that our backs are 'straight road(s) to the sky,' as Brigit Pegeen Kelly puts it.
Contact Information
Devanshi Khetarpal, Editor-in-Chief
Rainbow Children Hospital, Sahkar Bhawan, Opp. Rangmahal, New Market
Last updated: Apr 15, 2022