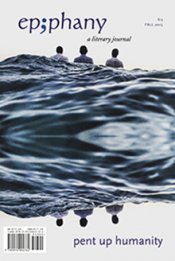 Genres Published:
Poetry, Fiction, Creative Nonfiction
Accepts Electronic Submissions:
Accepts Simultaneous Submissions:
Accepts Unsolicited Submissions:
Editorial Focus
Epiphany publishes fiction, nonfiction, poetry and visual media from both established and emerging writers and artists. We believe continuous study, practice, collaboration and careful editing all lead to good writing. Epiphany supports and honors the determination of writers and artists.
Tips From the Editor
Take your time and submit with sincerity and care.
Last updated: Feb 17, 2017