See writers who are published in this journal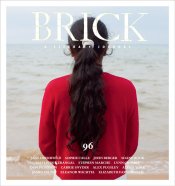 Accepts Electronic Submissions:
Accepts Simultaneous Submissions:
Accepts Unsolicited Submissions:
Editorial Focus
Brick is an international literary magazine based in Toronto, Canada, and edited by Michael Redhill, Linda Spalding, Michael Helm, Rebecca Silver Slayter, Laurie D Graham, and Martha Sharpe. Published twice a year, the magazine is a beautifully produced keepsake filled with essays, interviews, memoirs, travelogues, belles lettres, and casual, idiosyncratic ephemera that can only be described as "Bricky."
Tips From the Editor
Brick accepts unsolicited manuscripts of non-fiction only. Submissions must be previously unpublished. Please note that we do not accept fiction or poetry submissions at all.
Contact Information
Nadia Szilvassy, Publisher
Last updated: Feb 17, 2017