See writers who are published in this journal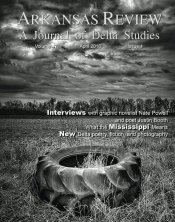 Genres Published:
Poetry, Fiction, Creative Nonfiction
Accepts Unsolicited Submissions:
Accepts Simultaneous Submissions:
Editorial Focus
Published three times a year, Arkansas Review is a journal of Delta studies. All materials must evoke or respond to the natural and/or cultural experience of the seven state Mississippi River Delta (IL, MO, KY, TN, AR, MS, LA). 
Tips From the Editor
Do read a few issues of the journal. Don't send material that doesn't evoke or respond to the Delta. You don't have to be from the Delta, necessarily; only your writing has to be.
Contact Information
Marcus Tribbett, General Editor
Last updated: Jan 31, 2023