See writers who are published in this journal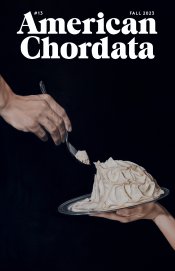 Genres Published:
Poetry, Fiction, Creative Nonfiction, Translation
Accepts Unsolicited Submissions:
Accepts Simultaneous Submissions:
Editorial Focus
American Chordata is a literary magazine based in Brooklyn, NY, dedicated to publishing great writing alongside art and photography. Our print issue is published once a year, in the Fall, and features both emerging and established voices in poetry, fiction, nonfiction, and translation.
Tips From the Editor
Check out previous issues on our website, or subscribe for an idea of what we like. 
Last updated: Nov 19, 2023