See writers who are published in this journal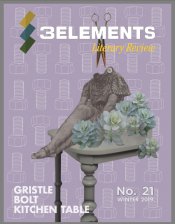 Genres Published:
Poetry, Fiction, Creative Nonfiction
Accepts Unsolicited Submissions:
Accepts Simultaneous Submissions:
Editorial Focus
3Elements Literary Review is a quarterly, online literary journal founded in Chicago in 2013, now based in Des Moines, IA. It publishes fiction, nonfiction, poetry, art, and photography.
Tips From the Editor
Please refer to our website to view our submission guidelines in their entirety. 
Each issue begins with the posting of three elements, and ends with a journal filled with the imaginative ways in which each writer and artist transformed those elements. We exist to inspire creativity. We, as well as our readers, thoroughly enjoy the journey on which each piece takes us, as no one story or poem is ever the same.
Contact Information
Mikaela Shea, Editor-in-chief
Last updated: Nov 29, 2022