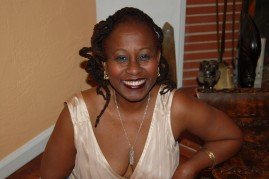 Publications & Prizes
Poetry
Books:
Caribbean Passion
(Peepal Tree Press, 2004)
,
Leaf of Life
(Jukebox Press, 2000)
,
It Begins with Tears
(Heinemann Books, 1997)
,
Tamarind & Mango Women
(Sister Vision Press, 1992)
,
Bake-Face & Other Guava Stories
(Kelsey Street Press, 1986)
,
Traveling Woman
(Jukebox Press, 1979)
Prizes won:
Writer in Resident, Sacatar Institute, Itaparica, Brazil, December 2005-February 2006.
Canute A. Brodhurst Prize for best story, "Conscience is the Same as Do Right," in The Caribbean Writer, University of the Virgin Islands, St Croix, 2004.
PEN Oakland/Josephine Miles Literary Award for poetry collection, Tamarind and Mango Women, 1992.
Pushcart Prize for short story, "Duppy Get Her," 1987.
Last update: Apr 10, 2009