Ander Monson is the author of a number of paraphernalia including a website, a decoder wheel, several chapbooks, as well as six books, most recently Letter to a Future Lover (Graywolf Press, 2015). He lives in Tucson where he directs the MFA program at the University of Arizona and is the editor of the journal DIAGRAM, Essay Daily, and the New Michigan Press.
Hailing from the far northern part of Michigan (four hours farther north than so-called Northern Michigan), I was initially skeptical about Tucson and the flat, dry desert Southwest. Wasn't it, you know, pretty much Phoenix—lawns and pools and Ikeas? The answer, as you'll quickly see, is a resounding no. I moved here in 2008 for a job at the University of Arizona (UA), sight unseen except for a two-day whirlwind interview and tour, abbreviated due to yet another blizzard and series of canceled flights in my home state and the hell hub of Chicago's O'Hare Airport. I'd lived with my family in Saudi Arabia for a couple years just before the first Iraq War and the desert there is a very different sort of desert than the Sonoran Desert that surrounds Tucson and extends into northern Sonora, Mexico. As Tucsonans will tell you, the area around Tucson isn't technically desert at all: It's semiarid. It gets about twelve inches of rain a year, is bordered on all sides by mountains, and is surprisingly green. Spend a week here and you'll learn to love the ocotillo, the iconic saguaro, and the palo verde, Arizona's alien-skinned state tree.
I found—and you'll find—that Tucson is a lovely, and in many ways, still-undiscovered city, particularly spectacular at night, since the International Dark-Sky Association recommends limiting the number of streetlights to prevent light pollution in order to allow the astronomers at nearby observatories to do their work. And whether you're here for the University of Arizona, one of the major hubs of literary culture in this city, or not, Tucson offers rich soil (metaphorically speaking, obviously; though there's enough agriculture in the county—think Pima cotton, which is harvested from Tucson's Pima County and other nearby counties—to make it a literal reference) for readers and writers of all sorts.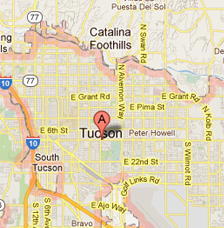 Public Habitats for Books
Despite the closing of independent bookstores, the digitizing of all media, and the ritual bemoaning of this by writers and readers, I've found reassurance by reading and writing in many of Tucson's diverse libraries that physical books still serve a purpose. I often scour old books for odd and lovely schematics to reprint in the online magazine I run, DIAGRAM—which features reprinted and original diagrams along with original prose, poetry, and images. In doing so, I've also stumbled upon books I would have never discovered otherwise, and found objects and marginalia and images tucked into books that remind me books have histories; they're made objects. From my time spent in libraries, I've finished a collection of essays written in response to these objects and texts, which I've tucked back where I found them as notes to future readers.
While the University of Arizona Main Library (1510 East University Boulevard) is certainly the best place to run across odd marginalia and old books—it houses a peculiar collection of so-called scientific texts on metaphysics, telekinesis, mediums, and the spirit world, and you can watch part of UA football games from the back side of the fifth floor that overlooks the stadium—there are more specialized branches on campus I'd encourage you to seek out. Special Collections (1510 East University Boulevard) houses the Art of the Book, one of the largest collections of artists books in the country, and includes limited editions by small presses, miniature books, special volumes created by notable binders, and pop-up books. For the possibility of discovering treasures such as books like the collected London and Edinburgh Philosophical Magazine and Journal of Science, I'm most partial to the Science-Engineering Library (744 North Highland Avenue) for its Spartan grandeur, the old engineering texts, and, amusingly, the intensely text-messaging students dutifully ignoring most of the books. The Center for Creative Photography (1030 North Olive Road), cofounded in 1975 by Ansel Adams and former university president John P. Schaefer, has world-class research archives and exhibitions and is the "largest institution in the world devoted to documenting the history of North American photography." Here one can survey the complete archives of Adams, Edward Weston, Harry Callahan, Aaron Siskind, Frederick Sommer, W. Eugene Smith, Louise Dahl-Wolfe, and Garry Winogrand. It's all housed in a fantastic building with enough space to get your head into the space for words.
A more esoteric experience can be had at the Peggy J. Slusser Memorial Philatelic Library. At 920 North First Avenue just north of University Boulevard, is a still-operating post office that houses Civil War memorabilia and western, particularly Arizona-related, postal history. Libraries like this are notable for their oddity and specificity. Their archives are far from digitized, so you'll have to come in to browse. This is a good thing, particularly for the essayist (or any writer looking for interesting material), as you're more likely to stumble on the thing you really need on the shelf or in the box next to the thing you thought you wanted. Googling is fine in a pinch, but it lacks the pleasure of peripheral discovery. While you're there ask librarian Lisa Hodgkins about the history of camel mail in the Southwest, started by Jefferson Davis in 1855, and discontinued shortly after.
The Pima County Public Library system operates twenty branches in the metro area, but the one to go to, in Tucson's increasingly happening downtown, is the Joel D. Valdez Mail Library (101 North Stone Avenue), particularly for its unique offering: a Seed Library that contains many varieties of vegetable plant seeds available for check out (and presumably to plant). Librarians ask you to donate seeds from the plants you grow, returning the book, so to speak. Because of its downtown location, this branch also collects the best weirdos—perfect for observation. It's energizing to write in spaces like this, filled with live readers reading.
Commercial Habitats
When it comes to independent bookstores that carry new books, Antigone Books (411 North Fourth Avenue) is one of the few in town. A fairly small but busy store, the solar-powered, self-described "zany bookstore with a feminist slant" Antigone once hosted the Other Voices Women's Reading Series, where I saw Alison Hawthorne Deming, Kathe Lison, Cybele Knowles, Fenton Johnson, Chris Cokinos, and many more read. Antigone also hosts book groups, and readings and author signings by touring and local authors, who usually but not exclusively have some local connection.
Across the street and two blocks south is the Book Stop (214 North Fourth Avenue), a used and antiquarian bookstore with a knowledgeable staff and an esoteric selection. It's worth a visit for books containing strange and amusing marginalia. For instance, I found a copy of Gary Snyder's Turtle Island with an epic inscription from one ex-lover to another. It stretched pages, detailing the drugs they took, the "friend with the nocturnal monkey-like animal," and the spectacular metaphysical, metatextual sex they had, only to end in a sad but knowing acknowledgment that they would never see each other again. This, dear reader, is the sort of history that you won't get buying e-books on your Kindle Fire.
The king of used books (and vinyl, CDs, video games, musical equipment, and really anything else that's used and related to media) in Tucson is the most excellent Bookmans Entertainment Exchange, with three locations (6230 East Speedway Boulevard, 3733 West Ina Road, 1930 East Grant Road). Each has its own flavor. The Grant location is popular with students and features unusual wares, for instance rock collections; the Ina location is more upscale, since it's closer to the Catalina Foothills, a ritzy area on the north side of Tucson; the Speedway location has the best selection of vinyl and board games, plus you can stop in next door to the local gem Beyond Bread and sandwich your day away. Though none of the locations host readings or signings, they do serve up coffee, a huge selection of books, and Wi-Fi—as do all the bigger bookstores, but this local chain is making book buying, selling, and browsing an experience again. The crowd knows this, which is why the parking lot is always mobbed. When was the last time you saw that at a bookstore?
Breeding Grounds for Books
Tucson is the home to a number of nationally known literary journals and presses that form the backbone of Tucson's literary culture, including the increasingly influential Letter Machine Editions, a nonprofit publisher of prose and poetry founded in 2007 by Noah Eli Gordon and Joshua Marie Wilkinson the Volta­, an online poetry, poetics, and epic interview emporium; the Destroyer, edited by Drew Krewer and Maureen McHugh; and Fairy Tale Review and its accompanying press, edited by Kate Bernheimer.
My own magazine of lit, oddness, and esoterica, DIAGRAM, published by New Michigan Press, is in its sixteenth year and continues to publish six issues a year. Though primarily online, one might find us in print at times too. New Michigan also publishes a chapbook series and DIAGRAM anthologies, and, with other local presses and magazines like Spork and Kore, participates in readings and events such as the Lit Press Fest for Teens that takes place at the University of Arizona Poetry Center each spring, featuring readings and workshops for teens and adults on DIY publishing, book binding, and letterpress printing.
Terrain.org, the oldest literary magazine online, founded in 1997 and edited by Simmons Buntin, is a "journal of the built and natural environments" that publishes great work (particularly nonfiction), both lyric and technical, loosely organized around the ways in which we live in and with our environments, with an emphasis on the desert Southwest. Terrain hosts readings and conversations, typically at the UA Poetry Center, and workshops.
The flagship literary journal of Tucson, Sonora Review, is one of the oldest student-edited journals in America. Founded in 1980 as a biannual print journal, it's still produced twice a year by students in UA's MFA Program. A well-known special issue paid tribute to Arizona alum and former Sonora Review editor David Foster Wallace, and covers feature work from the extensive local art scene. Sonora Review curates a reading series with established authors such as Sean Lovelace and Mark Neely and upcoming talents at bars like Club Congress, sponsors literary events that raise awareness about border issues, and facilitates workshops in area schools.
Spork, a now-legendary literary magazine and press, run by Drew Burk, Andrew Shuta, Richard Siken, and a rotating cast of other editors who include poet Jake Levine and fiction writer Joel Smith, sponsors one-off readings at Club Congress and elsewhere that have featured authors such as fiction writers Colin Winnette and Amelia Gray. Their new storefront (2229 East Broadway Boulevard) carries Spork Press books and titles from other small presses, doubles as their production facility, and hosts readings and live music.
Trickhouse.org is an awesomely messy art/writing/performance project founded by Noah Saterstrom that hosts an occasional reading/performance series, usually held at Casa Libre en La Solana, almost always pairing artists or performers with writers.
Unfairly, I always forget about the University of Arizona Press (1510 East University Boulevard), housed in the Main Library, when thinking of all the great literature being made and published in this city. Because the press primarily publishes academic and regional books, it's easy to overlook their Southwest-themed poetry and prose series. It too hosts readings in the city and nationally. In fact, the press hosted poet Julie Paegle at a killer reading at the Small Press Lit Fest in 2011. I've since devoured her poetry collection torch song tango choir—a revelation and a reminder that UA Press deserves more of my attention.
If one of Tucson's literary hearts is located at the University of Arizona (particularly in the UA Poetry Center—more to come on that later), the other might be POG, "a collective of poets, literary critics, and practitioners of other art forms" that runs many of the non-University poetry readings in Tucson. Recent events featured Bernadette Mayer, Eileen Myles, Julie Carr, and Fred at the Conrad Wilde Gallery (101 West Sixth Street #121), a performance space where many of the readings are held, or at Club Congress (311 East Congress Street), arguably the best bar in Tucson (and one of the classic American bars, as many national publications will remind you), where I saw poet Lisa Robertson a couple years ago. Club Congress is a rock club located in Hotel Congress, built in 1919 and largely unchanged since then, it's a reminder of the history of Tucson's Wild West. (If you're interested in this stuff, check out Old Tucson Studios west of the city, where many classic westerns were filmed.) Congress also hosts the best list of smaller indie rock shows in the city: Okkervil River, the Pains of Being Pure at Heart, the Kills, just to name a few who've performed over the last few years. 
I like to drink at Congress (the bartenders there make most excellent cocktails and know their beer) and watch a show or a reading, but recently I've started attending the hypercompetitive Geeks Who Drink trivia nights there, and in spite of assembling a dream team of knowledgeable literati including Cybele Knowles, Jamison Crabtree, and Joshua Marie Wilkinson, we've only managed to win one so far, won in an impressive lightning round performance by Laura Owen.
Kore Press (240 North Court Avenue), led by Lisa Bowden, is another contender for Tucson's literary heart, or at least one powerful ventricle. Devoted to publishing the work of women since 1993, Kore holds readings and performances throughout the city, including the Big Read project, supported by the National Science Foundation and the National Endowment for the Arts, which presented the work of Emily Dickinson in readings and performances at the UA Poetry Center, Pima Community College Center for the Arts, Tucson High Magnet School auditorium, Club Congress, and elsewhere. They also head up Grrrls Literary Activism Project, which encourages community involvement "through art activism, editorials, video and radio broadcasts, public readings, city council meetings, interviewing officials, journalists, artists, and more" through a series of workshops, internships, and much more. Did I mention they also publish some kickass writing? They do.
An Interlude
Before I get to the UA Poetry Center, which deserves and will receive its own paragraph, how about a break? With all the literary action—and I haven't even touched on the mountains and the spectacular bike trails; Tucson has the most miles of bike trails, paths, and lanes per capita in the nation—you need to take breaks in Tucson. I recommend the chopped salad with a cup of Mexican organic blend, which inexplicably I cannot replicate at home, at Ike's Place (100 North Stone Avenue #111), the local coffee chain. Coffee is essential for my process, maybe too for yours, as is the anonymity offered by such public spaces.
Given that we all start with the blank white page, I find myself craving input, like the conversations I overhear at the Cartel Coffee Lab (2516 North Campbell Avenue and downtown at 210 East Broadway), full-on hipstered up with a limited menu of varietals, Wi-Fi, indie rock, and dialogue straight out of the television show Portlandia. It's worth noting that many of my writer-friends, however, write in the more mellow atmosphere at Raging Sage Coffee Roasters (2458 North Campbell Avenue). They always recommend the scones, which though I have historically scoffed at because a scone is a terrible pastry, I finally tried last year and was blown away. So I also now recommend the scones.
Edward Abbey, Joseph Wood Krutch, and many of the authors associated with this sunburnt, unpretentious patch of Southwest would surely recommend you skip the coffee and head out of the city for a hike or a ramble. I say have the coffee and take on a trail run (hiking in less than half the time!), maybe to Seven Falls up in Sabino Canyon (technically Bear Canyon, but the easiest entrance point is through Sabino; it's about a seven to eight mile round-trip from the entrance). Mountains are in every direction, so you can have your pick depending on how wuss or butch you imagine yourself to be. Mountains and desert lead to silence, self-reckoning, and sometimes to self-erasure, all of which are crucial for writing. Drink a lot of water and bring plenty more. Wear a hat and sunblock. This place will drain you if you're not careful.
Fauna
Many writers live in Tucson all or part of the year. Lydia Millet, author of Sweet Lamb of Heaven (Norton, 2016), haunts coffee shops and racquet clubs, but is not picky where she writes. You might find Kate Bernheimer, founder and editor of the Fairy Tale Review and author of How a Mother Weaned Her Girl From Fairy Tales (Coffee House Press, 2014) at the Red Garter Bar & Grill (3143 East Speedway Boulevard) or at Time Market (444 East University Boulevard). Joy Williams, author of The Visiting Privilege (Knopf, 2015), lives here part of the year in the foothills but would not appreciate your pilgrimage or intrusion to her property. Nature writer Gary Paul Nabhan and poets Luci Tapahonso and Jane Miller reside here too. You might well find my colleagues Beth Alvarado, Susan Briante, Chris Cokinos, Barbara Cully, Alison Hawthorne Deming, Elizabeth Evans, Julie Iromuanya, Fenton Johnson, Farid Matuk, Manuel Muñoz, Boyer Rickel, Aurelie Sheehan, and Joshua Marie Wilkinson haunting the Modern Languages building on the UA campus at night. I keep crossing paths with Sherwin Bitsui, author of Flood Song (Copper Canyon Press, 2009), in airports coming to or going away from Tucson. Also in the area are recent Yale Younger Poets Katherine Larson and Eduardo C. Corral (well, Corral hails from not far away in Casa Grande, but we would like to claim him as our own) and past Yale Younger Poet Richard Siken. Half the bars here are stocked with Yale Youngers, who would be happy to regale you with tales of squalor and glory. Leslie Marmon Silko, author of Garden in the Dunes (Simon & Schuster, 2000) and winner of the 1991 MacArthur "Genius" Fellowship, lives close too, as does the journalist Charles Bowden, at least part-time. I've run into Rick Moody a couple times at El Charro Café (311 North Court Avenue) and Casa Libre en La Solana, though he's only an occasional visitor, not a resident. This is to say nothing of the younger phalanx of perhaps less-well known writers whose names, by the time you read this, may spark your interest more quickly than this laundry list.
The Big Yearly Rituals
The Tucson Poetry Festival, directed by Teré Fowler-Chapman, is a thirty-five-year-old celebration that has kept performance at the forefront of the art form by combining top-notch, cutting-edge writers (recent festivals included Eduardo C. Corral, Karyna McGlynn, Patricia Smith, Claudia Rankine, Xavier Cavazos, and your correspondent) with themes that encourage the poets to engage with the moment and create as they celebrate. The organizers have always included events that enact poetry in real-time, from improvisational concerts to theatrical collaborations. The festival is also the scene of Tucson's annual Team Selection slam, which determines the group of slam poets who will represent Tucson at the national competition, and an effort is made every year to include at least one voice from this recent development in American poetry.
For those more interested in performance/slam work, you might try Words on the Avenue, also directed by Teré Fowler-Chapman, which runs a reading series on the last Sunday of every month at Caffé Passé (415 North Fourth Avenue), which has a devoted following. Their plan is "simple: to unify the writing world by creating a space where all genres can coexist. We have freestyles, slam poets, nonfiction/fiction writers, storytellers, and more." It's worth your time. 
For the seriously bookish visitor (which you, reader, doubtlessly are), the Tucson Festival of Books, held in March, is probably the ideal time for a literary visit to the city to experience workshops, readings, and panels of every sort held on the UA's campus during students' spring break. Though the festival is only three years old, it's among the largest literary festivals in the country, with over a hundred thousand attendees and over four hundred fifty participating authors. Notable authors participating in recent years include Jim Harrison and J. A. Jance and many, many others. It's the fourth-biggest book festival in the country. Hundreds of exhibitors, including many of the presses and journals mentioned above, have booths selling publications and books, lead workshops for adults and children, and sell local, delicious food. I go to see the names that I love, particularly poets and smaller press authors with lower profiles. You can wait in line to see the big names, too, but my strategy is to lay low and try to catch up to one or more of them at bars or restaurants after the events.
Feeding and Watering
In trying to catch up with those authors, I'd start with Club Congress, or perhaps Pasco (820 East University Boulevard), within walking distance from the campus, which serves sustainable, locally grown and ranched food and offers homemade herbal-infused cocktails. Being an Upper Michigan boy at heart, I prefer the less-esoteric, but still upscale and delicious, Wilko (943 East University Boulevard), just west of the university's main drag, which has its own small library, if you're looking for reading material while you people watch (I also set up shop here sometimes to write). It has good beer on tap and a craft-cocktail menu established by the same knowledgeable hipsters who did up the great 47 Scott (47 North Scott Avenue), which serves comfort food. I can speak for the BLT + T & A (the T and A being turkey and avocado) and the Sonoran Bratwurst, a play on local delicacy the Sonoran Hot Dog (featured on national food and cooking shows many times over), which is a hot dog typically wrapped in bacon, deep-fried, covered in beans, tomatoes, crema, and god knows what else. They are really, really good. But if you'd like to try a Sonoran Hot Dog, you'd best head down to one of the El Guero Canelo locations (2480 North Oracle Road, 5802 East 22nd Street, or 5201 South Twelfth Street), or just buy them at the taco carts that dot the Tucson streets, particularly in summer evenings. While eating, wipe your hands, and then take some notes on Tucson's own cultural mix: We're so close to the border that I think a lot about what it means to be right up against the margin of a country, and against the margin of another, in a sort of intermediary state. Like my homeland in Upper Michigan up against the Canadian border, the writer visiting the city would be well advised to allow herself to seep in the different languages heard here, particularly on Tucson's south side, and the different sorts of conversational rhythms, and think for a moment about the upsides of immigration reform: More cultural input equals more interesting thinking equals more interesting writing. Perhaps this mix of influences has led to the upswell of all these interesting poetry and prose writers that live in or pass through Tucson—after all it's a lot easier to write from the margin.
The tragedy of the January 8, 2011, shootings are still alive in the minds of Tucsonans, particularly true of the patrons of local favorite bar the Shanty (401 East Ninth Street), where Gabrielle Giffords was and is a regular, just a block south of the Book Stop. Mentioned in the Economist as the site of meetings for the Baja Arizona separatist movement (some left-leaning and libertarian southern Arizonans want to secede from the state), it's also the oldest continually licensed bar in Arizona. The Daily Show once filmed an unaired segment in the excellent and overgrown patio—a New Orleans–style space, hidden away, conducive to reflection and observation, or perhaps a quiet, slightly drunken revision. Writers pool here, too, perhaps because it was a regular haunt of Tucson's dear poet Steve Orlen, who died in 2010. Drink a toast to him. Owner and bartender Bill Nugent runs a great bar with an extensive international bottled beer list—I'd recommend any of the St. Bernardus Trappist brews from Belgium (amazingly, the Shanty usually serves at least three varieties)—but he only has six or so on tap at any given time, and doesn't serve food. So don't drink too hard while revising. Or maybe: Do.
A margarita and a book by the pool is a good decision in the summer months. Or stop in at my favorite bar in Tucson, 1702 (1702 East Speedway Boulevard). While it doesn't perhaps have a lot of official literary merit (aside from being a watering hole for quite a few writers), the beer selection (just shy of fifty) on tap is easily the best in the city, and the best I've seen in the state. It specializes in Belgians and big American microbrews, and 1702 has started brewing and pouring its own beers, too, which is a very welcome addition to the still young brewing scene in Arizona. You will likely find me there sampling one of their many Belgians and increasingly aggressive American IPAs.
Everything Revolves Around the Poetry Center
A visit to Tucson must include the University of Arizona Poetry Center (1508 East Helen Street), one of the largest poetry centers in the country. Directed by Tyler Meier, it is certainly the center of the literary culture in the city, and though associated with the university, it has a lively schedule of programs, ranging from workshops and classes and discussion groups to poetry programs for children, open to everyone. Founded in 1960, the institution features a research archive of over seventy thousand items, including forty-seven thousand volumes of poetry and twenty-eight thousand issues of journals and periodicals. The reading series is robust, to say the least, with several readings a month, usually drawing audiences of more than two hundred. I could name names, but you can just think of your own list of best-known poets in the world, and you can bet that many, if not most, of them have appeared in the Poetry Center's reading series. The center also maintains an impressive audiovisual library. Trying to lay hands on Charles Baxter's very rare early poetry collections Chameleon and The South Dakota Guidebook for an essay I was working on, I was pleased to find them in the Poetry Center library. I should not have been surprised, since the collection is epic and renowned, and open to anyone interested. These convergences happen all the time and make me happy to be a writer in Tucson.
The Poetry Center also offers a residency each summer to a poet. And, as Joseph Wood Krutch wrote, Tucson is most itself in the summer, when the snowbirds are gone and the students have departed. You're left to negotiate with the sheer blistering fact of the sun (and thankfully of Tucson's fifth season, the rainy, volatile monsoon, which provides a break from the heat and also offers arguably the best lightning in the country in July and August each year).
Aiding and Abetting Writers and Writing
Casa Libre en La Solana (228 North Fourth Avenue), offers a semiannual writing residency—past writers-in-residence include Camille Dungy, Jena Osman, Rick Moody, Frederic Tuten—and fiction and poetry workshops, and also prides itself as being Tucson's event base, hosting some of the best readings in town, including the UA's MFA student reading series on many Friday nights, the Fair Weather Reading Series (for emerging visiting or local writers), and Trickhouse Live, "an art and performance series that brings together people working with words, images, sounds, videos and a variety of performances" curated by editors at the journal Trickhouse.org.
I left the Pima Community College Writers' Workshop (in May each year) off the previous edition of this guide, and regretted it, since it's the best weekend workshop in town, and featured essayists Nicole Walker and Nancy Mairs and Tiphanie Yanique last time around, and we're sorry we missed it. Check with the director, Meg Files, for this year's lineup. It's a great feature of the city that there is so much happening in any given month that I'm sure to have left something off, or something new sprang up without our noticing. Let me know and I'll add it in for the next time around.
One could wander Tucson's streets forever finding more great lit-related sites, groups, journals, and events, but I'll end by wandering into the Book Art Collective and the Letterpress Lab (1035 North Mabel Street) to witness the printing and making of books. Though located at the University of Arizona, the lab has public access and offers five Vandercooks (Universal 1, Universal 1AB, SP-15, No. 2, and 219), a Pilot Press, and a Chandler Price 8 x 12 OS onsite along with a mass of type. If you know what those presses are, you're probably salivating. If not, you should come by to experience literature literally in the making. You haven't appreciated what it is to print a poem until you've had to painstakingly handset your own type and decide, "Oh, well, do I really need prognosticate when I could use foretell or augur's shorter glory? Maybe I do, actually, for the line, but maybe not." The collective also brings in notable makers of artist books, printers, and binders to lecture and hold workshops. In the age of the digitizing, e-booking, and Twitterization of everything, getting your hands dirty with the making of words, poems, stories, essays, and books feels suddenly very important, very timely, and very Tucson.