Searching for an agent?
Poets & Writers is here to help. A collection of articles edited by the staff of Poets & Writers Magazine, The Poets & Writers Guide to Literary Agents includes straightforward advice from professionals in the literary field and additional resources with insider tips.
Updated for 2023, this handy resource will give you everything you need to know about what agents do, what you can expect from them, and how to find the best agent for you and your work:
Where agents search for new talent
How to read an agency contract
Eleven top agents ready to read your work
How to use agent feedback to your advantage
Advice from agents, editors, and writers across the industry

This file is in PDF format and requires Adobe Reader, available free from Adobe Systems, or other software capable of reading PDF files.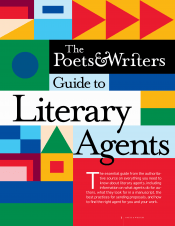 Product Details
Price: US$ 4.99
Page count: 72
Publication date: Mar 1, 2023
File format: PDF (Adobe Reader)