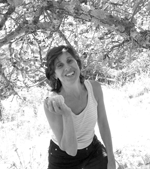 I thrive as part of a team. I've loved being sponsored by my friends at Poets & Writers and California Center for the Book to lead workshops in more than fifty small California towns over the years—from libraries in Imperial and El Centro to Markleesville, South Lake Tahoe, Yreka and Alturas. Working with Poets & Writers has changed my life.
My own writing has been inspired by what pours out of people (of every age) in these rural libraries. Six year old Victoria wrote, "I love the dim moon, I love the immense kindness…" And recently (playing with metaphor) in Marysville, Teresa from Mexico wrote, "the bag is blue like only the French see the moon." Loren wrote, "…not quite French blue, not January blue/but afterlife blue…."
To help people play with language I've been reading aloud from Finnegan's Wake (by James Joyce), and in a recent workshop Paul (17) named his Joyce-influenced poem, "Kekkek Cuckoolands and Sublime Limes." David (13) wrote, "I am a sunlight shadow, stuck within a kekkek riddle." He went on to describe himself as "an invisible panther who sweeps surprise into your mind." My experiences with Paul and David inspired a chapter called "Kekkek in Cloud Cuckooland" in a book I'm writing.
I'm immensely grateful to everyone at Poets & Writers for all the riches you bring my way.
–Susan G. Wooldridge, a writer supported by P&W's Readings/Workshops program, and the author of poemcrazy: freeing your life with words (Three Rivers Press, 1997)