Writers around the globe are gathering—virtually—to raise their spirits and keep creating through an initiative called StayHomeWriMo. Sponsored by National Novel Writing Month (NaNoWriMo), the organizers of the annual November write-a-thon in which authors pen a novel draft in a month, StayHomeWriMo invites writers to find comfort in their creativity and stay inside while the battle with COVID-19 continues.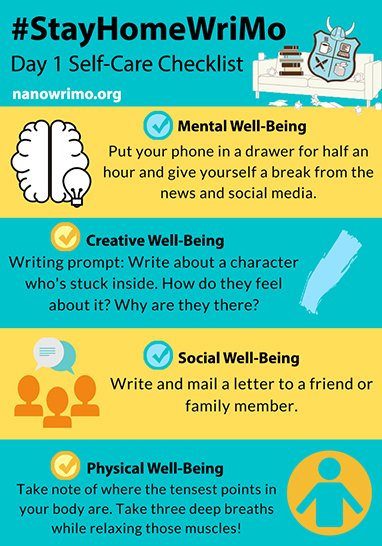 The initiative launched on March 23 and will run "as long as it's relevant," says National Novel Writing Month's executive director, Grant Faulkner. Each day writers can participate by visiting the StayHomeWriMo website or its social media channels for a daily checklist of four activities. A writing prompt provides structure and guidance for creative work; three other activities promote social, mental, and physical well-being. Related livestreams offer cheerleading and a chance to socialize and check in about StayHomeWriMo progress.
Participation is free and no sign up is necessary, although writers can enroll with the website to receive e-mails about StayHomeWriMo and engage in its online activities, including virtual writing groups. The StayHomeWriMo initiative is designed to be appropriate for people of all ages, and children as well as adults are welcome to participate. Focused work on a single project is not required.
"The response to StayHomeWriMo has amazed us," says Faulkner. "Before we launched this, we surveyed our community of writers, and literally thousands of people responded to ask us to provide ways to help people's physical, mental, social, and creative well-being, whether through writing prompts, tips on how to stay positive, online writing groups, creative encouragement, virtual discussions, writing challenges—or just dashes of whimsy and mirth."
Writers have responded enthusiastically to StayHomeWriMo's call to creative arms. Twitter user @JulzBurgisser described #StayHomeWriMo as "the help I didn't know I needed until I read the email. Anyone creative out there that needs some juicy help right now? Get on board that train."
Emma Komlos-Hrobsky is the associate editor of Poets & Writers Magazine.