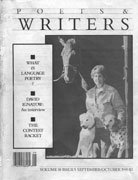 From New Hampshire to Texas, poet and rider Maxine Kumin chronicles her reading tour.
Features
Cummington Community of the Arts
A visit to the nation's only art colony that accepts artists and their children.
Ink Mathematics: An Introduction to Language Poetry
With its emphasis on linguistic theory, this movement is challenging established notions of poetry.
Have Saddle, Will Travel
Poet and rider Maxine Kumin chronicles her reading tour.
The Contest Racket
More and more poetry book publishers are turning to open competitions, but at what cost?
Winning a Writing Contest...and How It Changed My Life
One writer tells her fiction contest success story.
An Interview With David Ignatow
Author of eighteen books of poetry and prose, and winner of the Bollingen Prize for poetry, Ignatow wants to "help create a society where we can communicate with each other on a basis other than self-interest."
News and Trends
Contract Changes Sought by NWU
The National Writers Union proposes changes to the standard book contract.
Story Magazine Is Revived
Richard Rosenthal, owner of F+W publications, revives a venue for the short story.
More NEA Arts Strings
Developments to obscenity legislation affecting the National Endowment for the Arts.
Turner Offers Tomorrow Awards
A five-hundred-thousand-dollar prize is being given by Ted Turner, the broadcast mogul known for his dedication to social and environmental issues, for a book "set in the near future" and touching on the theme of prosperity on earth.