Thinking of getting your MFA?
Poets & Writers is here to help.
This essential handbook, revised and updated for 2021, provides everything you need to know about the MFA, with topics including:
What to consider before you apply.
How to decide where to apply.
Insider advice from an application reader.
Insight from an MFA teacher and student. 
Deciding to enter a graduate program later in life. 
Tips on becoming a teaching assistant.
How to remain productive after the MFA.
The hidden benefits of the no-residency option.
Tips for getting the most out of an MFA program.
Six recent graduates on the realities of attending a writing program.
A collection of articles edited by the staff of Poets & Writers Magazine, this handy resource includes straightforward advice from writers, teachers, and professionals in the literary field, additional resources to help you choose the program that's right for you, and much more.
Featuring articles by authors:
Steve Almond
Erika Dreifus
Kelly K. Ferguson
Joey Franklin
Dana Isokawa
Naomi Jackson
Helen Betya Rubinstein
This file is in PDF format and requires Adobe Reader, available free from Adobe Systems, or other software capable of reading PDF files.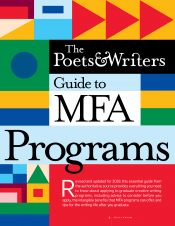 Product Details
Price: US$ 4.99
Page count: 84
Publication date: Sep 7, 2021
File format: PDF (Adobe Reader)