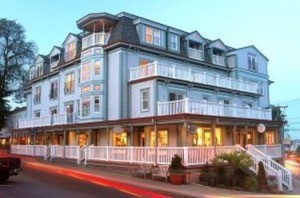 Location:
Martha's Vineyard, MA, United States
The 2017 Martha's Vineyard Institute of Creative Writing Summer Seminar was held from July 9 to July 15 and from July 16 to July 22 on the island of Martha's Vineyard, Massachusetts. The conference featured weeklong seminars with daily workshops in poetry, fiction, and creative nonfiction, as well as one-on-one manuscript consultations, panel discussions, and readings. The faculty included poets Christopher Citro, Matthew Gavin Frank, Amelia Martens, and Britton Shurley; and fiction writers Allegra Hyde, Sequoia Nagamatsu, Jennifer Tseng, Alexander Weinstein, and Kea Wilson. Tuition was $975 per week, which included a celebratory dinner with the faculty; other meals were not included. Lodging was available in a nearby guesthouse for $525 for a shared room and $825 for a private room. To apply for a scholarship, writers submitted three poems totaling no more than 10 pages or 10 pages of prose and a letter of interest with a $25 application fee by May 11. For a manuscript consultation, writers submitted five poems totaling no more than 12 pages or up to 20 pages of prose by June 15. Registration was first come, first served. Visit the website for more information.
Contact Information
Martha's Vineyard Institute of Creative Writing, 7 East Pasture Road, Aquinnah, MA 02535. (954) 242-2903. Alexander Weinstein, Director.