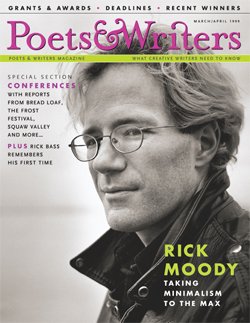 Rick Moody, author of the novel Purple America, discusses dark humor, bright angels and quantum leaps.
Buy This Issue
Features
Moody Indigo: A Profile of the Author of Purple America, Rick Moody
An interview with Rick Moody.
Moody on Dark Humor, Bright Angels, and Quantum Leaps: Q&A
A short interview with Rick Moody.
Conferences and Residencies
Bread Loaf: A Literary Tradition
Inside the Bread Loaf Writers' Conference.
Finding the Frost Place
Inside the Frost Place in New Hampshire.
Sewanee: Southern Comfort
Inside the Sewanee Writers' Conference in Tennesee.
Pudding House: Midwest Treat
Inside the Pudding House Writers' Resource Center and Library.
Sand Island Sojourn
Inside the Wellish Cabin Writers' Residency in Wisconsin.
My First Writers Conference
Bass recalls his first conference "in the mountains of Utah."
Squaw Valley: California Dreaming
Inside the Squaw Valley Community of Writers in California.
News and Trends
Barnes & Noble to Buy Ingram
The major bookseller's potential acquisition of Ingram Book Group, the nation's biggest book distributor.
Chinese Poet Jailed for Subversion
Poet Ma Zhe charged with subversion and jailed by Chinese government.
Study Links Angst to Creativity
Study on emotional stability and creativity.
Alternative Press Rocks On
Akashic Books, alternative press with urban sensibility.
The Practical Writer
The Great Audience Development Conspiracy: Peddling Literature's Addictive Charms
Public and private art funders try to promote reading.
Tax Tips for Writers: Save All Receipts...And Your Diary
Tax deductions and preparation for the literary set.
Amy Holman's Tough-Love Guide to Publishing: Subsidy Publishing—Don't Buy It
Writers shouldn't have to pay for publication upfront.
The Literary Life
Why I Write: A Backward Glance at a Lifelong Love
Poet and writer Robert Phillips examines his reason for writing.
Always Living in Spanish: Recovering the Familiar, Through Language
Writing in Spanish and living in translation.
The Art of Reading Page 123: How Books Saved a Small-Town Alabama Boy
A writer recalls finding solace in books during his awkward teenage years.